Making your rubbish work for you – 7pm, Monday 24th September 2012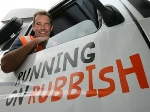 Your left-over food could be my energy source. Research in Dundee is helping to make our rubbish work for us by taking food waste and turning it in to fuel for our homes and cars.
On 24th September at the Chambers Coffee House, Dr Joe Akunna from The University of Abertay Dundee gave a talk about his current research and the ways in which some local research is pushing the boundaries of science in sustainable technologies.
Joe is based in the Urban Water Technology Centre at Abertay and is also the director of Abertay MSc programmes in Environmental Management.