Seeing the Invisible: Inside the Human Body – 7pm, Monday 25th February 2013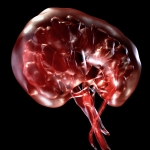 Inside our bodies is a hidden world that most of us never see. But with the help of Dr. John McGhee from the University of Dundee, doctors and patients are now able to learn and share information about the human body using computer generated images (CGI).
John combines the CGI that is used so frequently in modern films with data taken from scans of the body, often from Magnetic Resonance Imaging (MRI).
These techniques combine powerfully to benefit patients, with those who can visualise and understand what's happening inside their bodies having a more positive outcome.
Join us at the award winning Chambers Coffee House and Restaurant, 34 South Tay Street  on Monday 25th February 2013 at 7pm.
This is a FREE event and EVERYONE IS WELCOME. There is no need to book in advance but arrive early to avoid disappointment.