Summer Special: How to Build a Well-Behaved Robot, Wednesday 8th August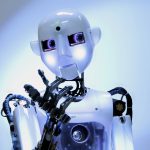 Robots are no longer stuck in the fantasy worlds of science-fiction, they are here amongst us. The rise of robots often goes unnoticed as they perform everyday tasks using intelligence in the background of our workplaces or homes.
This talk asks what a robot is and, as robots make ever more complicated decisions, how do we make sure robots are safe and stick to human rules?
Dr. Karen Petrie and Chris Martin, from the School of Computing at the University of Dundee, will lead us in this whistle stop tour of robots and the fun we can all have in creating them.
This event is part of Dundee Science Centre's summer exhibition – Robot – The Fantasy and the Reality, which runs until 30th September.
Join us at our regular venue, the delightful Infusion coffee shop, inside Dundee Science Centre – Sensation. Doors open at 6.30pm when the coffee shop will be serving drinks and snacks.
This is a FREE event and EVERYONE IS WELCOME. There is no need to book in advance but please arrive early to avoid disappointment.
If you can't make it we will be tweeting live from the event from the @revealsresearch Twitter account. To view these tweets and to join the online discussion you can use the hashtag #CafeSciDundee.