Forensics: Your Life in Your Hands – Wednesday 10th September 2014, 6pm
Traditionally, the identification of offenders from photographic or video evidence has focussed on facial features. However, criminals are increasingly ensuring that their face does not appear in physical evidence.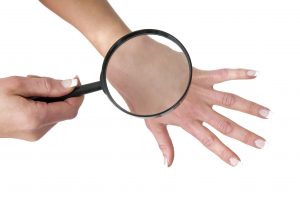 However, in 2007 a new scientific technique was accepted in the UK courts for the first time. The technique studies the patterns of veins on hands and was used in a ground-breaking trial to identify a suspect from images associated with a case of alleged child abuse.
Since 2007, cases of a similar nature have continued to be presented to the Centre for Anatomy and Human Identification (CAHId) at the University of Dundee. Dr Helen Meadows will give an overview of the technique and her work on analysing and creating databases of hand features.
Café Science Extra takes place in the relaxed atmosphere of Dundee Science Centre's infusion cafe. Everyone is welcome. Non-bookable. Please arrive early to avoid disappointment.