Nursing in the 21st Century – Monday 11 September 2017, 7pm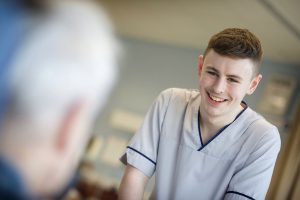 Nursing is a constantly changing profession, with new skills, roles and challenges affecting how nurses care for us. The recruitment crisis in the NHS increases the need for nurses to be resilient, flexible members of teams with expertise from surgery and A&E to GP practice and counselling patients.
Tom McConnachie is born and bred in Dundee, and has been a nurse and teacher of nurses for all of his working life. Join us for this discussion with Tom as he shares his nursing stories, and how he is helping the next generation of nurses to have fulfilling careers and enhance the care we all rely on. Tom will describe how students work with the army, school pupils and the communities of Dundee so that student nurses at the University of Dundee have real life experience.
Tom will also share his thoughts as a male nurse, which make up just over 10% of registered nurses in the UK, and how more young men can be encouraged to take up nursing, in partnership with the #MenDoCare campaign.
Join us at Café Science Dundee at Avery & Co. at 34 South Tay Street on Monday 11 September 2017, at 7pm. This is a free event and everyone is welcome. There is no need to book in advance but arrive early to avoid disappointment.