Pimp Your Memory: Lessons From Psychology – Monday 10th October 2016, 7pm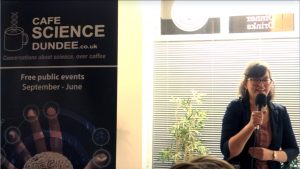 How should you prepare for an upcoming exam or test? What can you do to maintain information in memory for a long time? Cognitive Psychology, an area of Psychology that focuses on how we learn, think, judge, perceive and remember, give us some answers to these questions. And the science shows that these learning and memory habits are easy and very effective.
In this talk, Dr Carolina Kuepper-Tetzel, University of Dundee, gave a fascinating and practical overview on the most promising learning principles and shared with the audience hands-on strategies that you can apply right away to improve your memory.
If you missed this talk, you can catch it on our Cafe Science YouTube page.
Visit this page to learn more about studying Psychology at the University of Dundee.