The Psychology of Magic: Understanding how we see the World – 7pm, Monday 25th March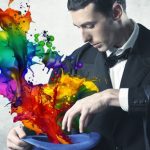 For centuries, magicians have baffled audiences by performing seemingly impossible acts.
One reason for this is that our perception of the world around us is itself an illusion created by our brains. Magician's are able to exploit this disconnect between how we really see and how we think we see the world.
This talk from Dr Ben Tatler from the University of Dundee will discuss how magic reveals new insights into how our brains work. Through misdirection we are beginning to learn more about social interaction. Through illusions we are learning more about how the brain interprets what we see. By working together, science and magic can reveal new insights into how our brains work, without revealing the mysteries and mastery of the magician.
Join us at the award winning Chambers Coffee House and Restaurant, 34 South Tay Street  on Monday 25th March 2013 at 7pm.
This is a FREE event and EVERYONE IS WELCOME. There is no need to book in advance but arrive early to avoid disappointment.