Voices from Care Homes: Gathering evidence for better building design – Monday 30th March 2015, 7pm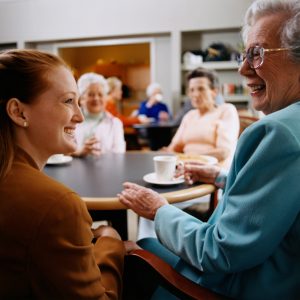 How can the design of care homes better support older adults in maintaining their wellbeing, independence, mobility and quality of life? What would you want and need if you lived in a care home? WiFi, natural light and colour, privacy, your own front door? Understanding how to create such environments remains a key challenge.
Dr Lesley McIntyre from the University of Dundee is carrying out research to tackle this challenge.  She is giving a voice to the users, measuring physical activity, and tracing and modelling movement within care homes to generate evidence of what is needed in the future of care home design.
In this talk Lesley will explain how she is collecting this evidence. She will give an overview of findings and will discuss plans of how this new knowledge will be disseminated into design practice. This talk will be of interest to anyone concerned with themes of ageing, wellbeing, technology, independence, and mobility within the built environment.
Join us at Avery & Co, 34 South Tay Street, Dundee on Monday 30th March 2015, at 7pm. This is a free event and everyone is welcome. There is no need to book in advance but arrive early to avoid disappointment.