"ARE YOU A CHICKEN-FLAVOURED NIPPLE BISCUIT?" Science blogs, comments and trolling – Wednesday 22nd April 2015, 6pm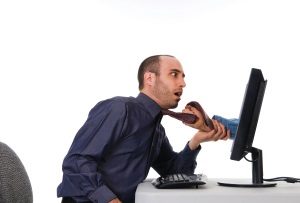 Many hope that science blogging will improve how scientists and others communicate. Conversations on science blogs can be vibrant – and sometimes extremely heated. Debates involve a wide range of participants including professional scientists, interested (and occasionally disinterested) laypeople, amateur scientists and advocates of unconventional science. They can also attract very uncivil commentators, or trolls.
While the benefits of meaningful exchange between experts and publics have been widely analysed – and some online comment spaces have been closed down due to worries about arguments and trolling – Dr Jonathan Mendel and Dr Hauke Riesch will look in more detail at the impact of exchanges with uncivil commentators or trolls. They will reason that trolling can actually have a positive effect on the development of serious online discussions about science.
Café Science Extra takes place in the relaxed atmosphere of Dundee Science Centre's infusion cafe. Everyone is welcome. Non-bookable. Please arrive early to avoid disappointment.